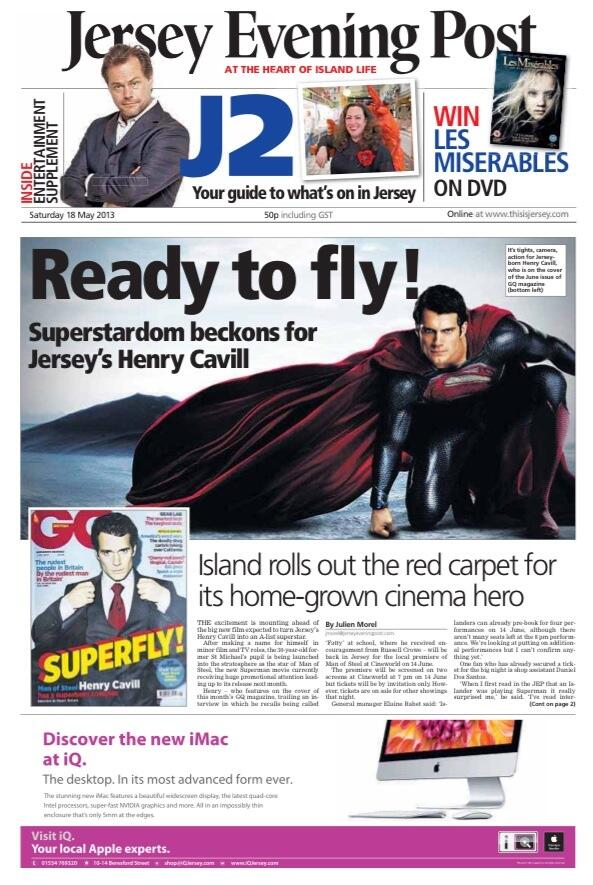 From all the Man of Steel premieres that Henry will be attending, we're guessing the one that will mean the most is the premiere scheduled for June 14 in Jersey. Today his home island newspaper proudly put him on the cover for all to see. Read what they had to say about their Superman, as they prepare to welcome him home.
Ready to fly!
Superstardom beckons for Jersey's Henry Cavill.
Island rolls out the red carpet for its home-grown cinema hero.
The excitement is mounting ahead of the big new film expected to turn Jersey's Henry Cavill into an A-list superstar.
After making a name for himself in minor film and TV roles, the 30-year-old former St. Michael's pupil, is being launched into the stratosphere as the star of Man of Steel, the new Superman movie curretnly receiving huge promotional attention leading up to its release next month.
Henry - who features on the cover of this month's GQ magazine, trailing an interview in which he recalls being called 'Fatty' at school, where he received encouragement from Russell Crowe - will be back in Jersey for the local premiere of Man of Steel at Cineworld on June 14.
The premiere will be screened at two screens at Cineworld at 7 pm on June 14, but tickets will be by invitation only. However, tickets are on sale for other showings that night. General manager Elaine Rabet said: "Islanders can already pre-book for four performances on 14 June, although there aren't many seats left at the 8 pm performance. We're looking at putting on additional performances, but I can't confirm anything yet."
One fan who has already secured a ticket for the big night is shop assistant Daniel Dos Santos. "When I first read in the JEP that an Islander was playing Superman it really surprised me," he said. I've read interviews with Henry and he seems a down-to-earth guy who's really grateful for what he's achieved. I've started to use him as an example for my kids to work hard for their dreams, just like he did to get auditions while working in Jersey and the UK. "Hopefully his success will help young people here stay out of trouble, and concentrate on becoming better people."
Superman's latest incarnation cost £175m to make and is likely to be one of this summer's biggest blockbusters. In the run-up to the film's release, Cavill is becoming more and more prominent in the media, more recently in the June edition of GQ magazine. In it, he recalls working at Liquid nightclub on the Waterfront when he was auditioning to play Superman in the 2006 remake. "When they opened the dance floor section, the DJ always played the Superman music," he tells GQ, before admitting that the John Williams-composed tune ceased when Brandon Routh was chosen over him.
The rest of the article
which you can purchase here,
just quotes some more of what Henry told GQ magazine. And
don't miss the cute pic
of him as a boy and his teacher's comments, included in Jersey's coverage of their
Man of Steel
premiere. We can't tell you how happy we are for Henry, and will continue supporting him on his rise to fame.