UPDATE 6/4
: Full press conference is in!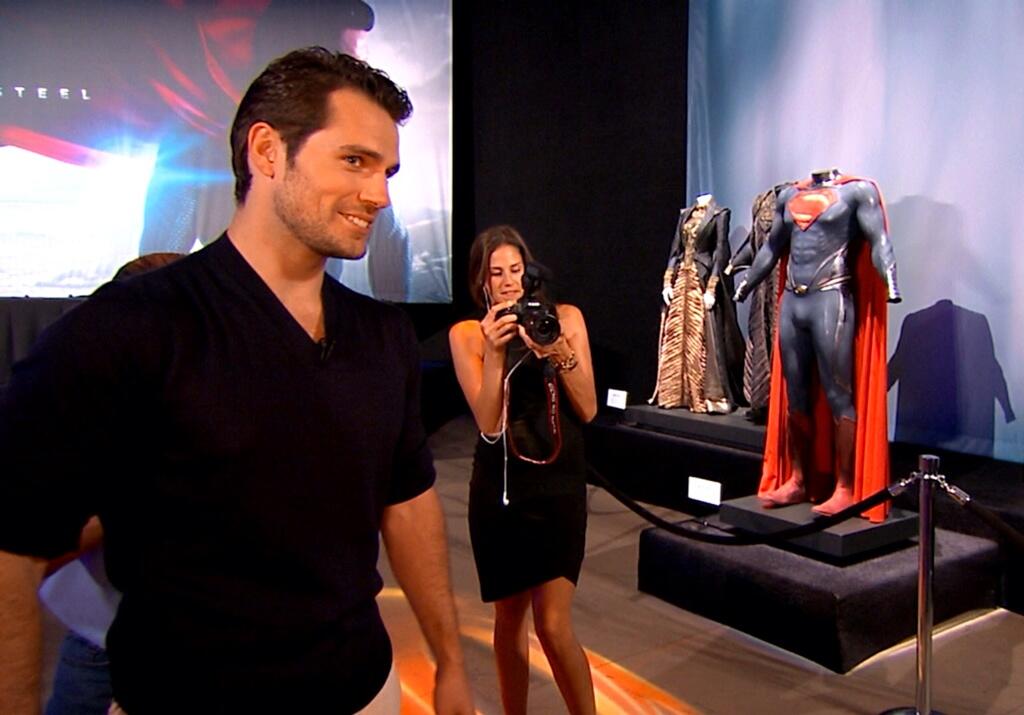 @MeredithFrost tweeted:

Some days are work. And some days you get to hang with Superman. @ManofSteelMovie takeover, on @Nightline tomorrow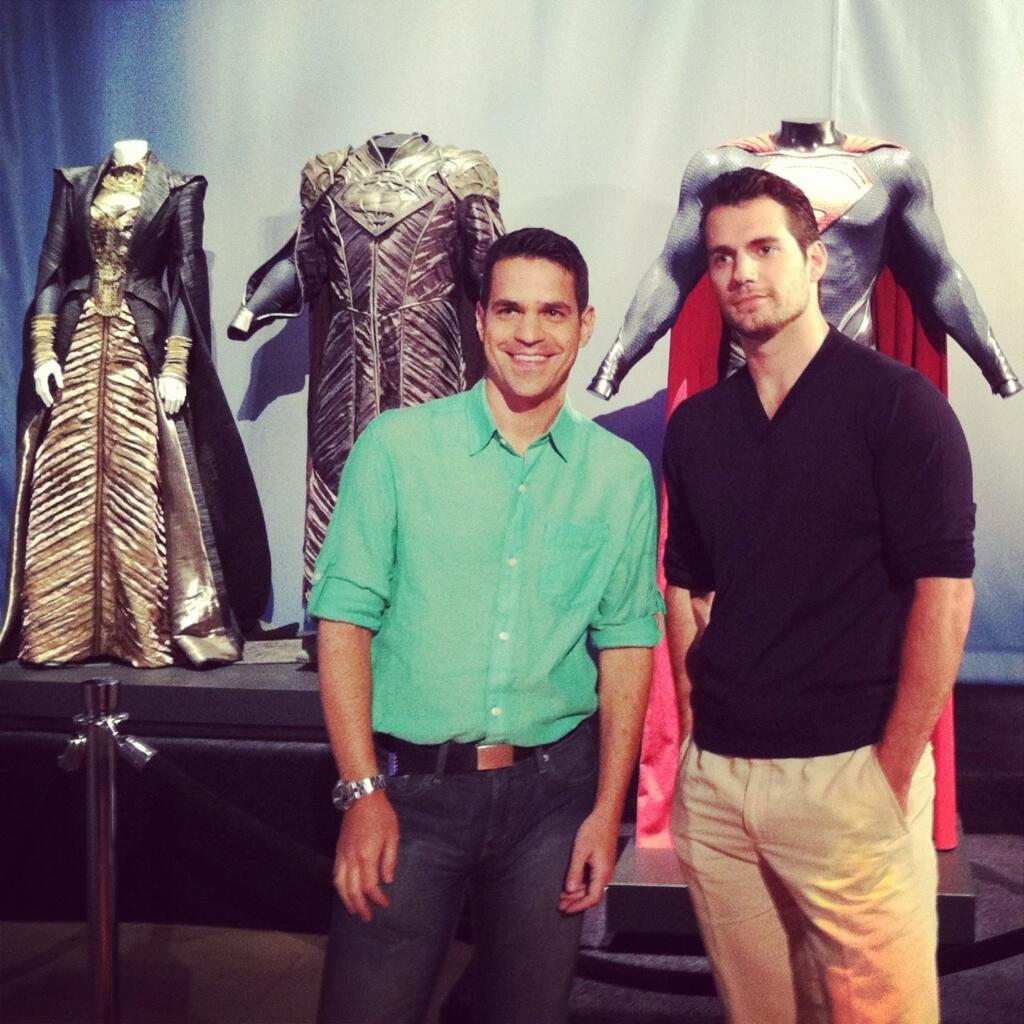 Desde Hollywood
has more great pics & a breakdown of the press conference you
have to
read (includes new Henry quotes)
HERE. Geek Nation
has some
great things to say about Henry
post-conference as well.
UPDATE
: It looks like the user who uploaded the YouTube videos from the press conference has for now made them private. We'll leave them up in case they are made public again.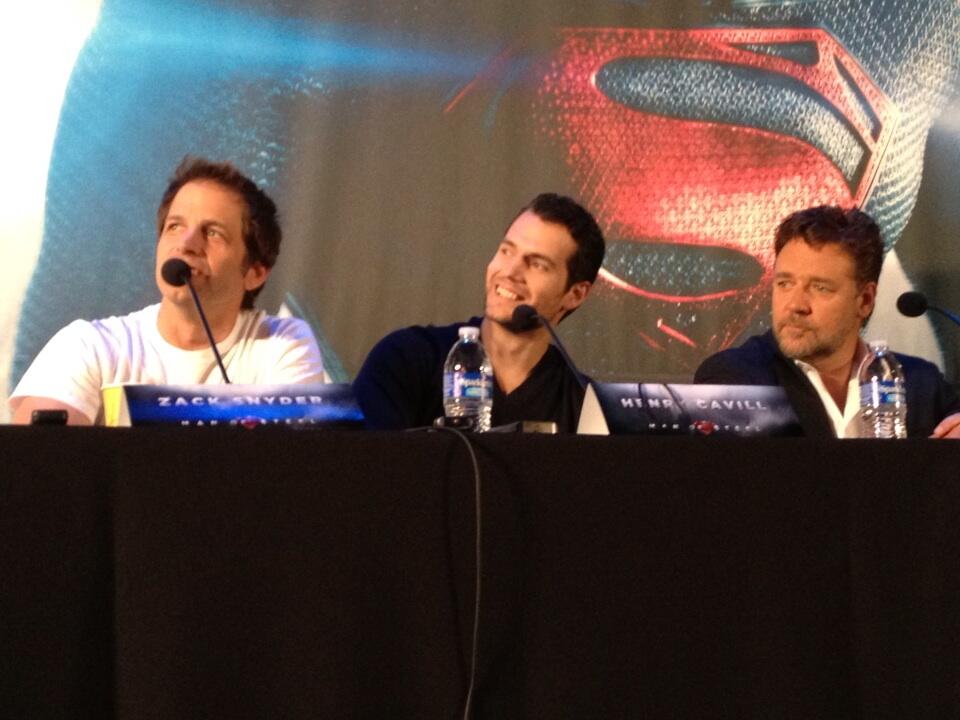 FAVE TWEETS
#ManofSteel
press conference - I was in geek girl heaven! Again, Henry Cavill is gah-gorgeous. I need his gene pool in my life.
@CineMovie
Sorry I didn't live tweet but kept staring at Henry Cavill.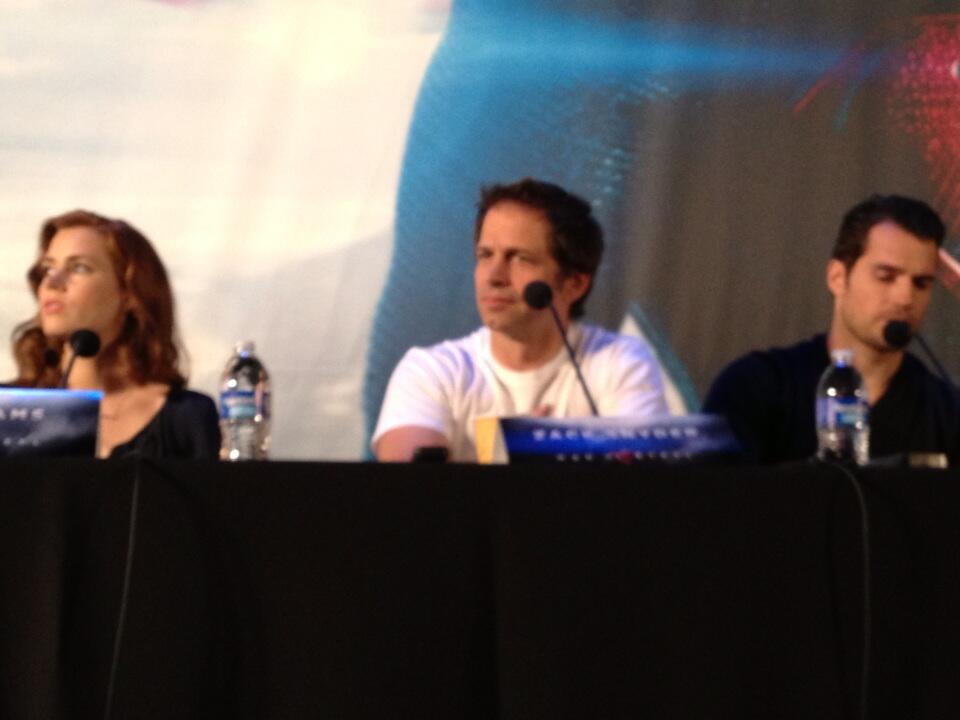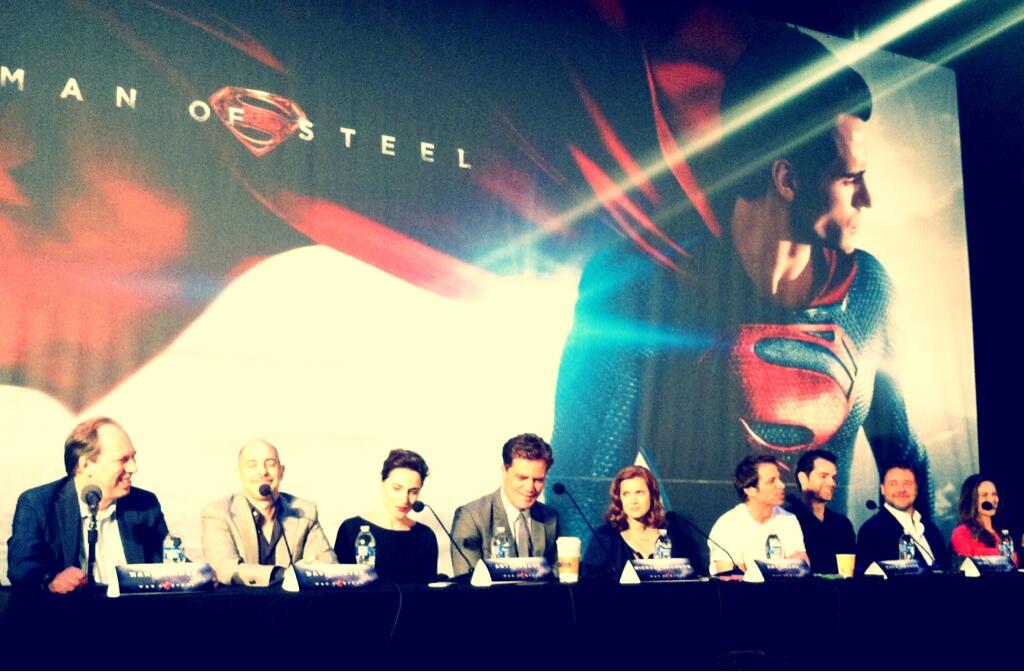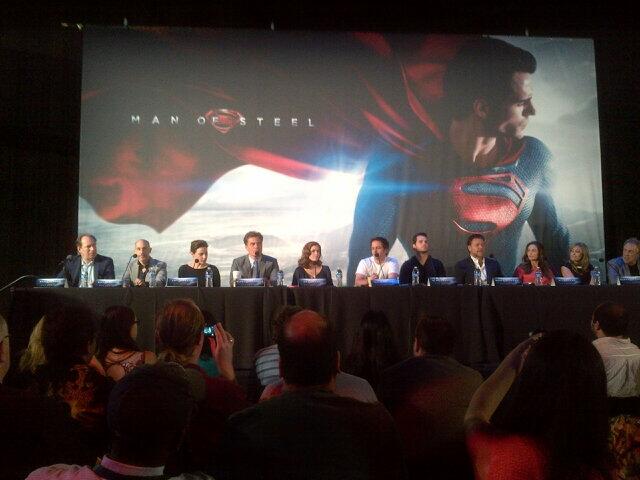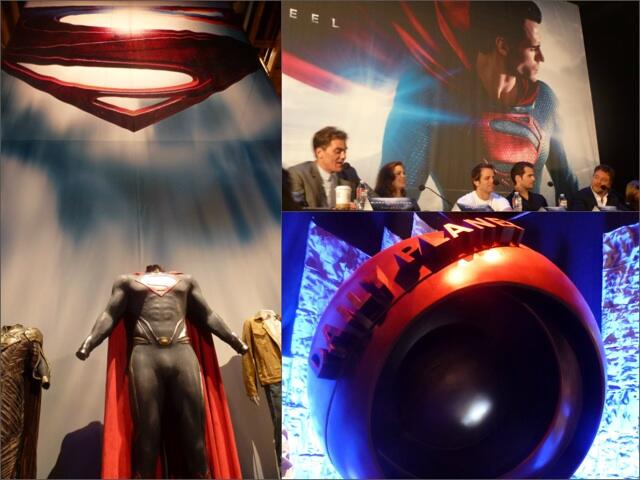 Tweets
Fandango Cine:
'I have a confession, I have never seen any Superman movie'
#RussellCrowe
'Playing an icon, not try to be an icon' -
#HenryCavill
about his take on being
#SuperMan
'She was part of the solution,not the problem'
#AmyAdams
on why she loved Lois Lane
#ManofSteel
'As actors, it is quite a lonely journey'
#HenryCavill
on taking part of his personal experiences to play
#SuperMan
'I think she really likes Superman, she really liked Henry in the suit'
#AmyAdams
on her 3yr. old daughter prefering Superman over Muppets
'The fun part of playing
#Superman
was flying'
#HenryCavill
on the special effects of
#ManofSteel
'Talk about coming out!'
#dianelane
jokingly referring to the first time
#MarthaKent
saw
#ClarkKent
in the
#SuperMan
suit
#ManofSteel
'Everyone knows I am much stronger than
#HenryCavill
'
#michaelshannon
talks about fighting scenes in
#ManofSteel
BlogXilla
Amy Adams said she auditioned for the part of Lois Lane 3 times. "Thank you Zack."
Michael Shannon "Zod does not have super powers on Krypton." It's not until he comes to earth where he gets his powers like Superman.
Henry Cavill on playing
#Superman
. "Playing an icon you don't try to be an icon. That defeats the purpose. It actually really matters."
Amy Adams said although her daughter grabbed Superman's butt. But she does prefer the muppets over Superman.
#Manofsteel
Russell Crowe says he never saw a Superman Movie. Ever
#ManofSteel
Michael Shannon. "I get my evil from Satan. I drink it. It hurts. But then I take some Pepto and the pain goes away."
#manofsteel
The action sequences were so challenging that it pushed the team further than expected.
Henry on how Superman shaves. "Some things better remain a mystery."
#Manofsteel
Henry "We all need hope. If its tragedy we hope that we can overcome it."
#manofsteel
Zack Snyder. Just because kryptonite or Lex Luther is not in the film. Do they exist in this world? That's another question.
#ManOfSteel
zack synder: This is an unapologetic version of superman. Ppl have been apologizing for him but no. This is the way he is.
#manofsteel
CineMovie
Sorry I didn't live tweet but kept staring at Henry Cavill. Funny quotes from stars coming
While on set w/ baby Kal-El,
@russellcrowe
says 4 of baby actors pooped, farted & peed on him. That'll certainly kill the thespian moment
Even 3yr olds r into Henry Cavill. Amy Adams says daughter grabbed his behind on set. "She's rear-end height". Lucky kid!
"Talk about your son coming out" Diane Lane on seeing Clark in
#Superman
suit 4 1st time.
#ManofSteel
Henry Cavill said he didn't reference source material to play a conflicted Superman. Nor did he watch previous actors 4 inspiration
Who was tougher to fight? Henry Cavill or
@russellcrowe
in
#ManofSteel
? Michael Shannon (Zod) says Crowe. "He's the gladiator"

Bryan Alexander
Amy Adams confesses. Her 3-year-old daughter gooses Henry Cavill in his super suit.
#ManofSteel
Russell Crowe very interested in when his
#Lego
minifigure from
#ManofSteel
will be available. Producer has no answer.
Enjoying watching Diane Lane's magic eyebrows move as she watches
#ManofSteel
press conference. She can move both equally well.
Michael Shannon says he gets his evil directly from Satan. Actually he doesn't know. "It couldn't be anything further from who I am."
General Zod Michael Shannon admits Russell Crowe can kick his butt. "After all he was the gladiator."
#ManofSteel
#RussellCrowe
young, baby Superman pooped on him during filming of a key scene. Admits as father, he's good with a nappy.
#ManofSteel
Henry Cavill won't answer the
#beard
question of the year: How does Superman shave? Internet debate rages.
#ManofSteel
,
#beardmystery
Man of Steel (official)
#AmyAdams
says she has always loved
#Superman
- this was her 3rd time trying to play
#LoisLane
, so she's thrilled to be in
#ManofSteel
.
#HenryCavill
jokes that Superman listens to
@RealHansZimmer
scores when asked about the
#ManofSteel
's choice of music.
.
@RussellCrowe
loved
#ManofSteel
's "complex, really cool script" that explored the tough decisions a father has to make.
Even 3-year-olds can't resist.
#AmyAdams
's daughter liked seeing
#HenryCavill
in the suit so much she gave him a "cheeky grab."
#ManofSteel
#HenryCavill
focused more on the "lonely aspect"of his character in
#ManofSteel
rather than referencing any classic
#Superman
material.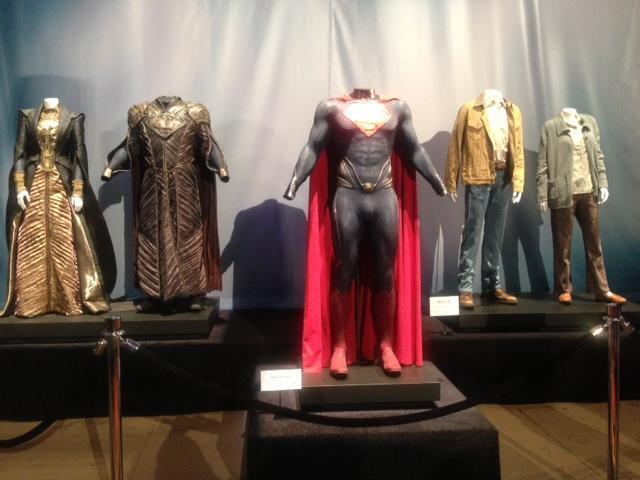 Clark and Supes costumes
New still with Henry below - many more costumes at
Desde Hollywood
.
Stay tuned for much more coverage, as we count down to the Man of Steel release. June 14!

@DesdeHollywood

Henry Cavill was nice enough to pose for a picture on his way out of the Man of Steel press conference ¡Un caballero!
(us: true gentleman indeed.)